Welcome to my website. I hope you'll listen to some of my music, streamable through the links here.
I play music of the Celtic lands (Ireland, Scotland, Wales, Brittany, Nova Scotia) and some from England. I often wrap the traditional songs and tunes in modern, rock- and pop- seasoned arrangements. I try to honor the great contemporary "Celtic Fusion" traditions of Fairport Convention, the Bothy Band and even the Byrds, among many others. I get tremendous help from some talented and adventurous musical friends.
THE MUSIC
Celtic music involves much more than those drink-and-fight songs you hear in St. Paddy's Day bars. Robin Williamson, in his book of Celtic fiddle music, says that the music suggests the world of "high old wizards at the dawn of time."
This music breaks down broadly into two types: songs (with words, of course, often telling a story) and tunes (purely instrumental pieces for dancing or listening). The tunes, in turn, come in a dozen or more types, most of which are meant to power specific types of dances: jigs, reels, hornpipes, polkas, schottisches, barn dances, set dances, waltzes, strathspeys, an dros and many more. The dance tunes make lovely listening, though, and we often play them at sessions for the sheer fun of it.
I don't pretend to be an "authentic" Celtic folk instrumentalist, though. Countless brilliant fiddlers, accordionists, harpers, flute players and others are already on record and playing live for all of us to admire and enjoy. Instead, I hope to bring the textures and instruments of other styles to this already-magical music. As an Irish-American, this seems to me to be the authentic thing to do. So don't be surprised to find rock, or reggae, or blues, or bluegrass, touches here and there in my music… even in the good old pub standards.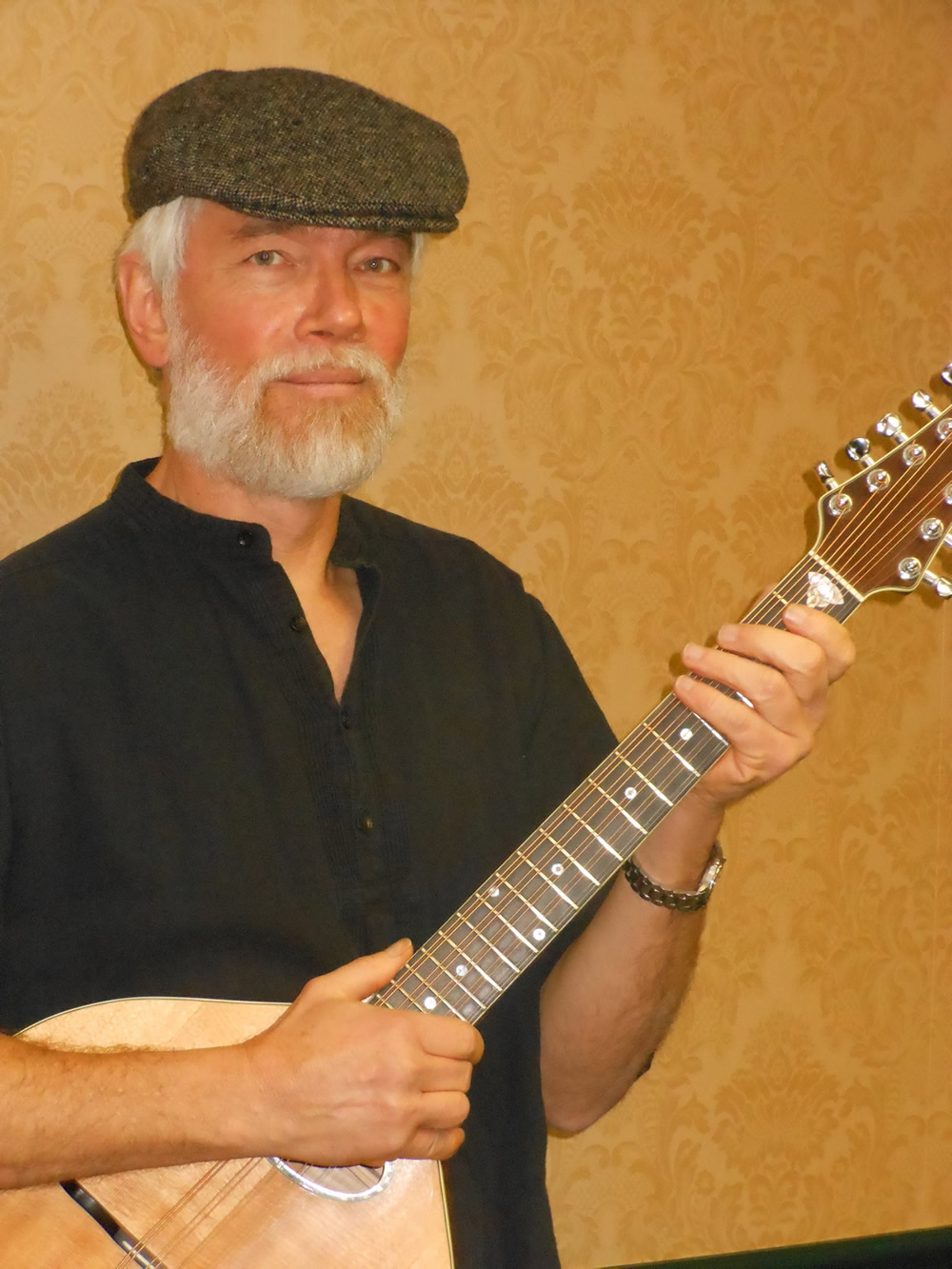 THE MUSICIAN
I'm the grandchild of Irish immigrants on both sides. My grandparents all hailed from Counties Dublin, Roscommon and Mayo – two of them coming to the U.S. only after living for a time in England. Both my grandfathers played the harmonica, and my father's father, Arthur F., also played fiddle.
I grew up in the 1960's and 70's playing guitar so, of course, I became, by turns, a rocker and a folkie of the Pete Seeger variety. The first gigging band to hire me was in fact a trio of hot bluegrass pickers. But even in those musical worlds, the alien-yet-familiar scales and chords and themes of Celtic music were there in the background, adding instant age and mass to electric power ballads and banjo-n-holler songs alike.
Starting with Fairport Convention's searing electric rendition of "Tam Lin," which I heard first at a beery Halloween party in Cambridge, Massachusetts in 1977, I began burrowing beneath the pop overlays to discover the music's still-living roots. Working at Green Linnet Records, a small Celtic-music label, in the 1980's, I could listen to, and even get to know, some of the world's best musicians in the genre. It was there that I first encountered the cittern, played by virtuoso Gerald Trimble.
I've lived and worked in Burlington, Vermont (spawning ground for, among many others, Phish and Anais Mitchell of Broadway's "Hadestown") for the last 30-plus years. I've met and played this music with a host of talented local players. I've been privileged to contribute to various albums and bands. A musician should always try to get in amongst players better than himself, and in that I've been most successful.
These days, I play solo, duo and larger band performances. My album Nostalgia Café, released in January 2020, is the first album to concentrate on my peculiar brand of Celtic fusion.